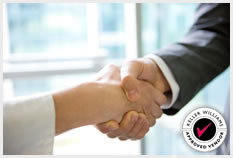 Become an Approved Vendor
Keller Williams Realty Landmark's Approved Vendor Program is a unique opportunity for your company to be part of the Keller Williams team.
Keller Williams Realty is the third largest residential real estate company in the United States.
As an approved vendor, you will have the opportunity to:
Reach a local audience of 250+ Keller Williams associates.
Reach more than 5,000 customers that we deal with yearly.
Link your website directly into the Keller Williams Realty Landmark Intranet, a system available to all Keller Williams Realty Landmark associates.
Develop a relationship with a vendor liaison at Keller Williams Realty Landmark.
Become licensed to use the Keller Williams trademark in your promotional materials.
Attend our Office functions and events.
Sponsor large events and seminars throughout the year.
Access our company intranet with contact rosters, trademark logos, colors, designs and much more!
Interested?
The application process includes a due diligence process. At a minimum, your company must have been in business three years, have good credit, excellent business references and be able to serve our associates on a local basis.

If your company meets the minimum requirements and you would like more information, please click the button below and complete the form.